Since my meal planning post, the next obvious question is, "what are you eating?" and specifically, "what's for dinner?" Before I started religiously meal planning on Saturday morning, I used to dread that question because I often had no good answer! My son eats the same thing on repeat, but since Jordan started eating what my hubby and I eat, I needed to have good dinner options on hand most of the time! She's a great eater, but I realize she wants to eat real food that tastes good. As long as that's what's served, she'll usually gobble it up!
A few dinners I've made lately were both easy and delicious, so I wanted to share! I include a new recipe every week in my newsletter that gets delivered to your inbox every Saturday morning. You can subscribe here if you want to start getting the HWH Weekend Edition!
Moto Leggings 40% off! • Sports Bra • Athletic Top • Pink Sneakers • No Show Socks
Before we dive in, I got lots of questions about this pretty weekly meal planner. It makes a huge difference in my day when I know in the morning, what's for dinner that night. That's why I created a space for DINNER at the top of the daily printable I made for us! Get the free printable here!
Okay, so onto the recipes!
Slow Cooker Broccoli Beef
This Slow Cooker Broccoli Beef is an old standby that is so good that I've even taken it as my Meal Train meal when I've signed up to bring dinner to a family. The flavors are as good as if you ordered it from a Chinese restaurant! I serve it over rice and usually make a double batch because it goes quickly in our house.
White Chicken Chili
I found this White Chicken Chili recipe from my friend Jamie when she served it at Bunco. It was so good that I came home and made it a few nights later! It's another simple slow cooker dish with a different spin on a traditional chili because it's made with chicken breast and white beans! Definitely garnish your chili with some of these toppings (avocado, sour cream, cheese, green onions, and/or a squeeze of lime) to take it to the next level!
via Genius Kitchen
When I shared on Stories that I was using our new Breville Fast/Slow Pro to make this chili, I got tons of questions about it! My husband heard about this from his buddy at the gym who is making all kinds of things in it using the fast pressure cooker and so my hubby 'had to have it'! But I remembered the InstantPot being super popular around the holidays (it's got over 26,000 positive reviews!) and less expensive, so we compared them before making the purchase.

Twist Front Top • High Waist Jeans
I found this review to be the most helpful in comparing the Breville Fast/Slow Pro vs. the InstantPot:
For my hubby, I think he wanted what he considered to be the 'best of the best' and he preferred the LCD display, so that's the one we went with. I do actually really like the easy-to read display as well and how easy it is to just turn the dial to customize the Fast/Slow Pro to what you are cooking. It's also super easy to clean because the inner pot comes out and you can wash it in the sink.
Veggie Lasagna
Another dish we all really enjoyed was the veggie lasagna! I'm used to always eating meat lasagna, but with this one, I honestly did not miss the meat and it was tasty and full of flavor. I added mushrooms and onions and I used the pre-cooked lasagna noodles. It also reheated well in the microwave and made great leftovers!
Let's be friends!
Subscribe and enjoy exclusive content delivered directly to your inbox!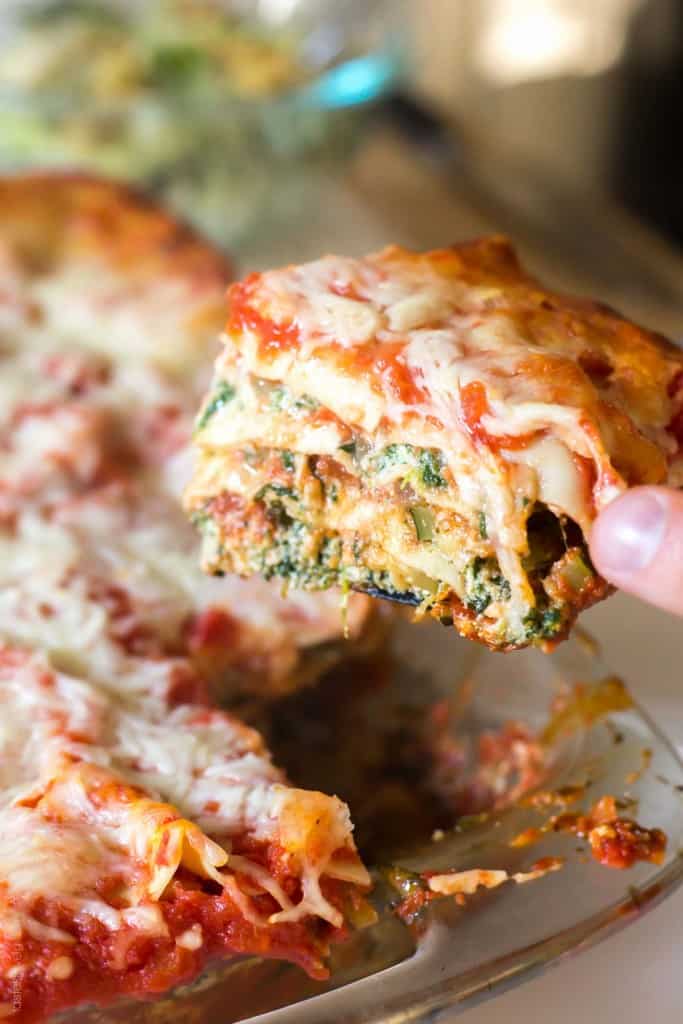 via Tastes Lovely
Creamy Chicken Pasta with Sun-Dried Tomatoes & Mozzarella Sauce
If you like pasta, a cheesy sauce, and sundried tomatoes, you'll like this recipe! It's basically a two-pot dish, so not a lot of clean up either!
via Julia's Album
Vegan Bean Chili
This is my second try at Veggie Bean Chili recently and this was for sure my favorite!! The one thing I would change is that it was a little "tomato forward" so I would cut back on the diced tomatoes or the paste. Other than that, perfect for a chilly winter dinner! Oh, and I didn't make my own sour cream, but there's a recipe for that included. We like to eat chili with cornbread- those little Jiffy packets are awesome!
via Oh She Glows
And if you're in a 'snack rut', this post has some new ideas for things to try!
P.S. Yesterday, y'all wanted to know about this layered necklace and I thought it sold out, but here it is, still in stock! #happyday! The tee is too cute too! Perfect v-neck and nicely fitted- it will be a Spring/Summer favorite for sure!
Striped V-Neck Tee • Necklace • Earrings • Bag • Jeans
What's easy dinner does your family love?