Good morning friends! It's been a while since I've given you the lowdown on what I've been eating and it's a question I've been getting a lot lately, especially after the swimsuit dressing room post, so I'm happy to share my typical daily meals with you!
When I was in my 20s, I could eat whatever I wanted and it never seemed to affect my shape.  #thosewerethedays Now that I'm in my 40s, it's another ballgame for sure! I have a pretty big sweet tooth, but I've noticed that when I indulge too much, it definitely shows up on the scale!  Trust me, my body isn't perfect- especially after two kids, but I've always appreciated a fit, athletic physique and that's what I strive to maintain.
Even though working out with weights, doing cardio, and stretching is important to your overall health and fitness, what we put in our mouth is probably even more important!  Today I'm sharing what I typically eat in a day and this post is also in collaboration with Zella at Nordstrom, so you'll get a double dose of fitness and fashion in this one!
6 food guidelines
Years ago, I competed in a fitness competition and was amazed to see the transformation you can make in just 12 weeks when you follow a super strict diet and exercise regimen.  I'm not in competition mode anymore, but I do tend to stick to these six food guidelines:
Never skip breakfast
Don't go hungry; but only eat until you're full
Try to get protein at every meal
Eat mostly whole foods
Eat every few hours
Eat 'clean' during the week, and have some indulgences on the weekend
At a glance, my typical meals look like this:
5:30 a.m. Pre Workout Shake (Muscle Egg)
7:30 a.m.  Breakfast (Steel Cut Oatmeal or Protein Pancake)
12:00 p.m. Lunch (Dinner leftovers or Grilled Chicken Salad)
3:00 p.m.  Snack (apples w peanut butter, peppers and hummus, Greek yogurt with granola and berries)
6:00 p.m. Dinner (I use my Recipe Binder to cook dinner about 4 times a week)
PRE WORKOUT SHAKE
If you've been here for awhile, you know I like to wake up early to workout.  The dilemma is that I can't workout on an empty stomach, but I'm not ready at 5:30 in the morning to eat a big breakfast.
Tank • Sports Bra • Shorts

What I've been doing for years, is getting up and drinking 1 cup of Muscle Egg.  It's flavored egg whites and sounds gross, but it's pretty much like drinking chocolate milk. One cup has 26 grams of protein.  You can make your own at home with skim milk, egg whites and sugar free chocolate syrup, but I prefer the convenience of buying it pre-made.
Tank • Sports Bra • Shorts • Similar Shoes
Top Fit:  It runs TTS, I'm wearing XS. I was immediately drawn to the sunshiny yellow in this mesh tank.  It's impossible to have a bad working in a tank so cheerful! It's cool that you can shop Nordstrom activewear not only by category, but also by activity type, brand, price or COLOR!  
Bra Fit:  It runs TTS, I'm wearing S. You can't see my sports bra through the top, but it's a moderate workout bra, suited more for low impact sports like weight lifting, pilates and yoga.  The double straps are a fun detail and the pale aqua is so pretty!
Shorts Fit:  It runs TTS, I'm wearing XXS, but should have gotten an XS.  These shorts are awesome for running and are lined with a tulip hem and comfortable, wide waistband.  They're also reflective if you run outside when it's getting dark or the sun is just coming out. 
It only takes me a minute to drink it and sometimes I'll put it in a to-go cup and drink it on the way to the gym.  It's just enough to get me through my workout with energy.

BREAKFAST
After I come home, I'll usually shower, then eat my breakfast with Jordan.  She's a great eater and breakfast companion!
Similar Robe
Breakfast is either oatmeal or a protein pancake.  I eat this almost everyday of my life, perhaps switching it up on the weekends for bacon and eggs or if I'm not that hungry, toast with butter and jelly. My toast is typically on whole wheat bread or this Power Seed bread that's light but filling.
Ever since I organized my pantry, it's much easier to pull out the ingredients I need to make oatmeal.
OATMEAL RECIPE
Bring 3 cups of water to a boil
Add 1 cup steel cut oats
about 1/4 cup of raisins (Jordan likes a lot of raisins!)
A pinch of brown sugar
A dash of cinnamon
Cover and let simmer for 20 minutes
This makes about 6 servings.  Jordan and I eat it for about 3 days, just microwaving it to reheat.
I was adding whole flaxseed to mine, but realized I needed to grind them to get the benefits- but mostly I like the crunch.  So, I'm back to adding toasted almonds to mine and a splash of almond milk.  It seems regular milk and ice cream are upsetting my stomach these days, so I switched to almond milk.  It's especially yummy in oatmeal.
Did I mention Jordan's a great breakfast companion?!  Not always . . . . 😉
LUNCH
By 11:30, I'm ready for lunch and because I work from home, I like to eat lunch with Jordan.  My favorite is when I have dinner leftovers I can heat up for lunch!
Recently, I made a Vegan Enchilada Casserole for dinner and it reheated beautifully for several days after!  It was more like a chili than a casserole and also yummy (and non-vegan) with sour cream on top- and tortilla chips!  This is one of those tasty meatless meals that still has lots of protein in it because it has black beans, red lentils and quinoa.
Top • Leggings • Sports Bra • Similar Shoes
Top Fit:  It runs a little large, I'm wearing XXS. I like a lightweight top to wear over my sports bra when it's on the cool side out.  This one is comfortably thin with a cute cutout in the back. 
Bra Fit:  It runs TTS, I'm wearing S.
Leggings Fit:  It runs TTS, I'm wearing XS.  These are my go-to leggings with a high waist and mesh panel.  Nordstrom has been carrying these forever and I hope they never go out of stock!  I like the crop length because I tend to get too hot in long leggings unless it's really cold out!  
By the way, I get lots of questions about our low microwave.  It works fine for me because I'm a shorty and can just bend over, but the other alternative was to put it up with our cabinets and that would've been too high for me.  Our kids were initially interested in pushing the buttons, but they've learned to leave it alone.

If I don't have leftovers to eat, my go-to lunch meal is a grilled chicken salad.  I always have grilled chicken on hand and I'll mix in whatever we have to top it with.
GRILLED CHICKEN RECIPE
Mix butter lettuce and romaine
4 oz. grilled chicken
tomatoes
cucumers
bell peppers
dried cranberries
goat cheese
sliced almonds
Fat Free Raspberry Vinaigrette
I also love chickpeas in a salad!
Before grilling my chicken (I typically use chicken tenders because they cook extra quick and evenly), I'll marinate it in seasonings and olive oil so it has more flavor.  I cook it over medium-high heat for about 5 minutes per side.  Then let rest before slicing.  If you want to grill a big batch of chicken breasts, this is how we do it, keeping them nice and moist!
Here's the dressing I like- it's sweet, but not too sweet!
SNACKS
I go through phases with snacks, like peppers/carrots with hummus, Greek yogurt with fruit and granola, but right now I'm hooked on apples and peanut butter.
Crop Joggers • Sports Bra • Shoes
Bra Fit:  It runs TTS, I'm wearing S. I like this bra for the higher neck because I feel all tucked in, but it's not at all uncomfortable. 
Joggers Fit:  It runs TTS, I'm wearing XXS.  I'm crazy for these joggers!  They are the perfect lightweight material and great for running around or exercising. They have a wide drawstring waistband and pockets.  I wear them at home, running errands, to ball games, and just about anywhere you need pants! I like them so much, I have them in both colors! 
Jordan loves this snack too!




Keep your berries fresh longer
But we're also big fans of fruit- James too, so I like to keep the basics like oranges, bananas, strawberries and blueberries on hand.  The way I was taught to keep your berries fresh is to wash them in a vinegar bath.
Put the berries in 2:1 water to vinegar and let soak for about 5 minutes.
Place the berries in a colander and rinse with water.
Let the berries dry on a towel.
Line your storage container with a paper towel and put the dry strawberries inside with a lid.
The berries should last up to two weeks!
It works for blueberries too!
DINNER
I'm in a good groove of meal planning on Saturday mornings, and grocery shopping on Saturday afternoons.  But, I recently reorganized my Recipe Binder and that's made a world of difference.  I try to include veggies and make some meatless meals.  But, I know protein is important, so for those meatless meals, I like to incorporate beans, lentils, chickpeas, or quinoa- all great sources of protein!
Below are a few examples of meals that are hits in our house.  You can subscribe to my newsletter for a new recipe every week that's been HWH approved at our table!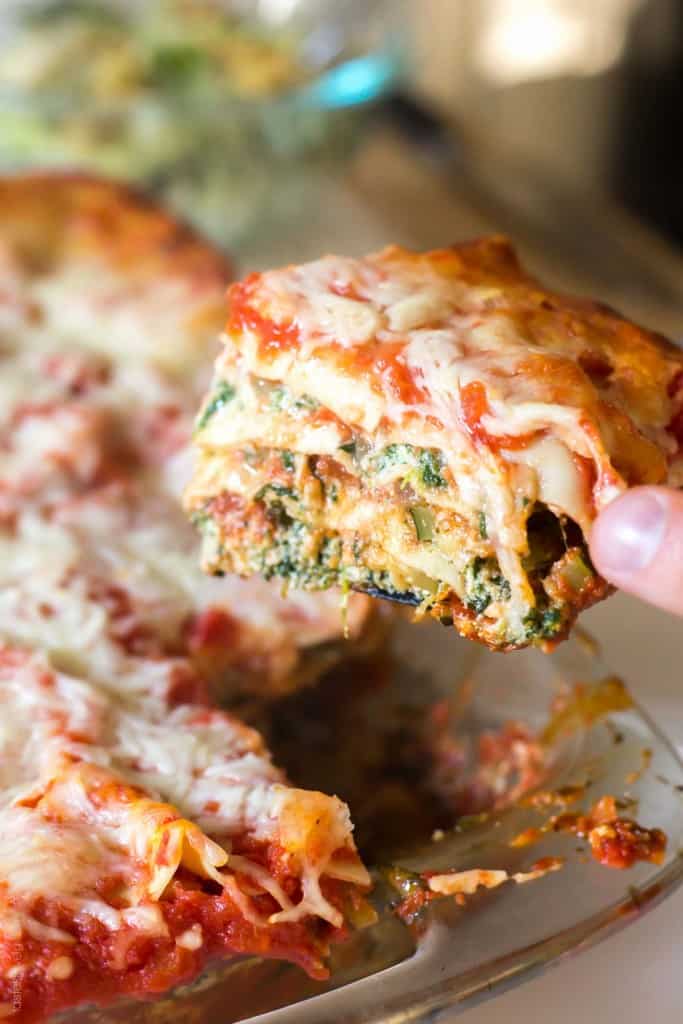 Veggie Lasagna via  Veggie Lasagna Tastes Lovely
Sometimes we will just have grilled veggies and potatoes! Chop up the veggies, sprinkle with seasoning and olive oil and roast them in the oven until cooked through and crispy!
And one more pic of the joggers since they are at the top of my 'athleisure' list!  See how cute they are for running around in?!
Top • Joggers • Sports Bra • Sneakers
I hope this post was helpful!  After I typed it all up, I worried that my meals are so boring because I eat the same thing over and over! But that's what I like and what works for me! And I should mention, I never go without my coffee and creamer . . . 
I'd love to hear what some of your go-to healthy meals are! I'm sure we could all use some more ideas! 
And thank you to Nordstrom for sponsoring today's post.  I appreciate that they provide creative freedom so that I can bring you the kind of meaningful content I want to provide, while still featuring their top quality fashion brands, like Zella. It's one of the reasons I enjoy working with them so much! Thank you, dear readers, for supporting the brands that make this blog possible.