This week's recipe
Another dish we all really enjoyed was the veggie lasagna! I'm used to always eating meat lasagna, but with this one, I honestly did not miss the meat and it was tasty and full of flavor. I added mushrooms and onions and I used the pre-cooked lasagna noodles.   It also reheated well in the microwave and made great leftovers!
Garden Vegetable Lasagna Courtesy of Tastes Lovely
WIDGET OF KITCHEN ACCESSORIES
air fryer, kitchen towels, plates, silverware, glasses, dutch oven, meal prep container
You can find all my food-related posts in the food section of my blog or find a full meal plan with recipes and shopping lists included in the Get Fit Done Guide!
Other favorites
I've been meal prepping grilled chicken, green beans and Spanish rice that I could reheat and eat for about 4 days.  If you have an air fryer you can cook a rotisserie chicken in that!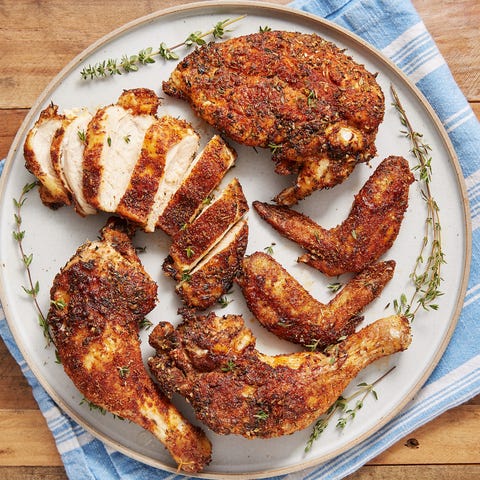 Air Fryer Rotisserie Chicken courtesy of delish
We love oatmeal in this house! This oatmeal is a real treat and is ready in under 30 minutes. Great for weekends or making ahead of time. This recipe has a candy bar theme, but what's fun about oatmeal is that you can add your own favorite ingredients to make it perfect for you!
Healthy Almond Joy Baked Oatmeal Courtesy of Kim's Cravings